Compliant Compatible Service
Container Security Assessment
To ensure the protection of your users' data and sensitive information, a Container Security Assessment service assists in identifying and resolving security vulnerabilities within your containerized application environment.

order now
Benefits
Benefits of Container Security Assessment
Comprehensive Assessment
Identifying and Mitigating Potential Threats
Container Security Assessment is an essential component of cybersecurity that involves conducting a comprehensive evaluation to identify and mitigate potential vulnerabilities in containers. This assessment helps protect containers from online attacks, ensuring robust security measures are in place.
Vulnerability Assessment
Continuous Security Monitoring
Round-the-Clock Protection
We continuously monitor potential threats to your containers in real time with our CryEye scanner, providing reliable protection and security around the clock. You can access your dashboard at any time to view your container security data.
Learn more about CryEye
Compliance Support
Ensuring Compliance and Governance Standards
Ensure compliance with industry standards and regulations for Container Security Assessment in cybersecurity through expert guidance and comprehensive support. Stay protected from potential vulnerabilities with a thorough assessment of your container security measures.
Compliance and Governance Service
Cybersecurity Certifications
Our team of certified cybersecurity experts possess industry-standard certifications and qualifications, ensuring that we provide top-notch container security assessment services to our clients.
Container Security Assessment Methodology
Our methodology comprises six crucial steps that ensure a comprehensive assessment of container security vulnerabilities, providing tailored recommendations for mitigation.
Our methodologies comply with global requirements:
01
Container Identification
The first step involves identifying and documenting all containers deployed within the environment. This includes gathering information about the container images, versions, and associated dependencies.
02
Configuration Review
A thorough review of container configurations is conducted to identify any misconfigurations or insecure settings. This includes analyzing container runtime configurations, access controls, network configurations, and container orchestration platform settings.
03
Vulnerability Scanning
Container images and associated dependencies are scanned for known vulnerabilities. This involves utilizing vulnerability scanning tools to identify vulnerabilities and weaknesses in the container images, underlying operating systems, and libraries used within the containers.
04
Runtime Analysis
Containers are assessed during runtime to monitor their behavior and identify any potential security risks. This includes analyzing container interactions, network traffic, and system calls to detect any suspicious or unauthorized activities.
05
Compliance and Policy Evaluation
The container environment is evaluated against relevant compliance standards and organizational security policies. This includes ensuring that containers adhere to security best practices, access controls are properly implemented, and any regulatory requirements are met.
06
Logging and Monitoring
Adequate logging and monitoring mechanisms are implemented to track container activities and detect any security incidents. This involves setting up centralized logging, monitoring container logs for anomalies, and integrating container security events with Security Information and Event Management (SIEM) systems.
Container Security Assessment Overview
We offer a thorough examination of possible risks to container security as part of our container security assessment service.
A trained cybersecurity specialists provide individualized advice for mitigation using a tested approach.
We also offer continuous security monitoring to ensure that your containers remain secure and compliant with industry standards.
We work with you to ensure that your containers are secure, compliant, and continuously monitored, so you can focus on your business's core activities without worrying about cyber threats.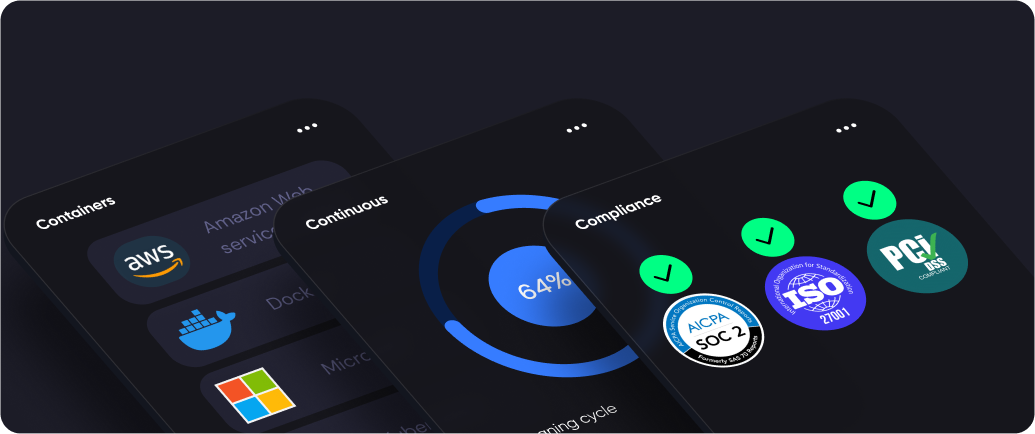 Order Service
Container Security Assessment